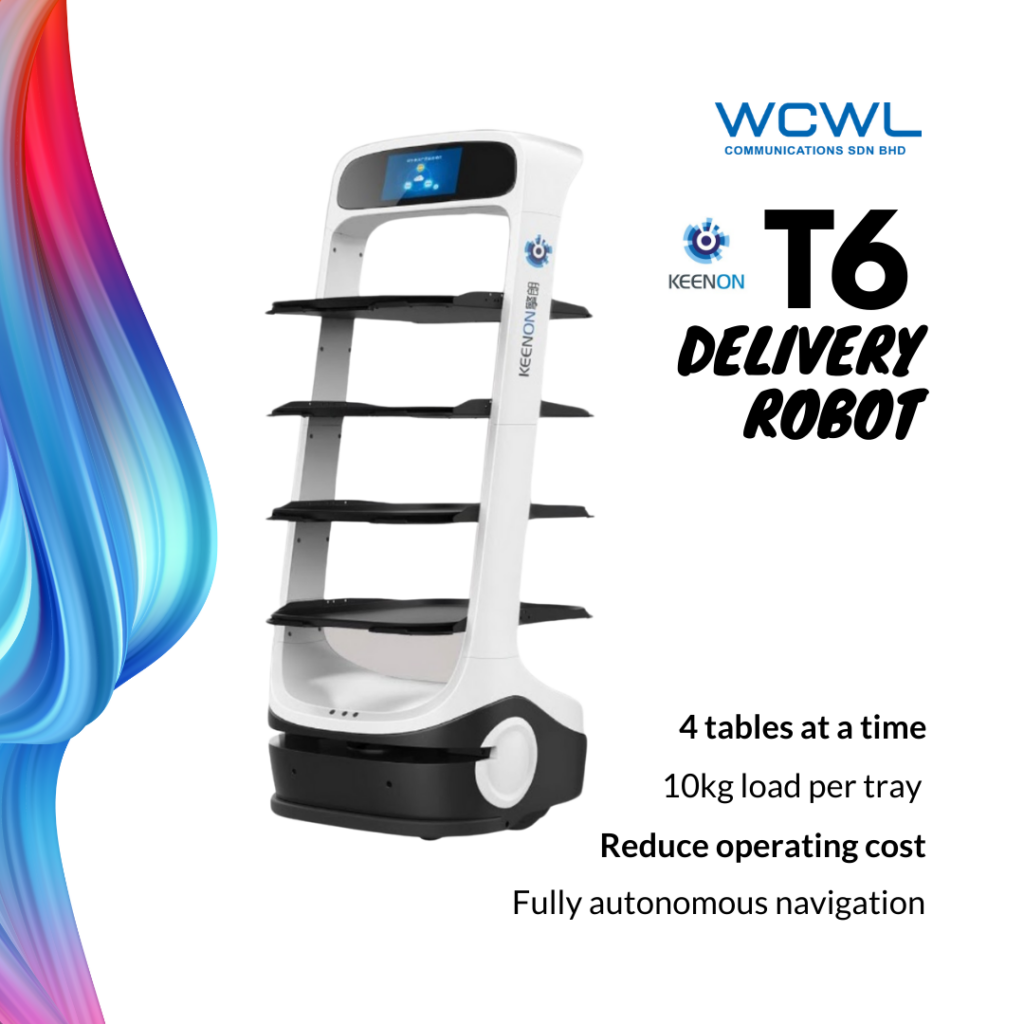 The Keenon Delivery Robot T6 is part of a series of intelligent transportation robots that operate in indoor environments such as restaurants, hotels, supermarkets, cinemas, business offices and other public places. It is capable of providing services such as restaurant food delivery, office document delivery, express delivery, etc.
Product Highlights
Keenon Commercial Delivery Robot T6
Smart transportation robot for indoors that interacts with users
Autonomous navigation and obstacle avoidance
Can be used for delivering restaurant food, office document and more
Includes multi-layer large pallets with a payload of 10 kg per layer
Can be controlled through the touchscreen and the Peanut App
This intelligent transport robot with machine vision and LIDAR achieves autonomous positioning navigation, intelligent obstacle avoidance and is capable of fully autonomous movement in indoor locations and intelligent interaction with humans. The T6 Delivery Robot is capable of autonomous navigation through machine vision, laser radar, and LIDAR, and integrates touch switches and other 8 sensors to achieve intelligent obstacle avoidance.
Users can operate the robot system using the touchscreen as well as the Peanut App that connects through Wifi. The robot can intelligently interact with users through the microphone. The users can make the robot stop immediately by pressing the emergency stop switch. Which is at the back of the robot and used in emergency situations that the robot is at an abnormal running status or occurs unexpected incidents that will potentially harm the surrounding environment.
Specifications
Model: T6
Maximum travel speed: 1m/s
Maximum climbing angle: Gradient <= 5 degrees
Wi-Fi Support: 802.11b/g/n transport protocols
Battery capacity: DC 48V 12Ah
Max load per tray: 10 kg
Rated power: 500 W
Standby current: less than 0.5 A
Endurance time: More than 12 hours of continuous operation
Standby time: greater than 48 hours
Life span: 20,000 hrs
Operating temperature: -10 – 60 °C
Working environment: Indoor environment, flat and smooth floors
Charging method: Manual
Charging time: 4 hrs
Input rated voltage: 220V / 50Hz
What's Included
1 x Keenon Delivery Robot T6
Dimensions
Size
Robot size: 519 x 531 x 1256 mm
Net weight: 50 kg
Trays size: 512 x 426 x 180 mm
Charging set size: 230 x 220 x 290 mm