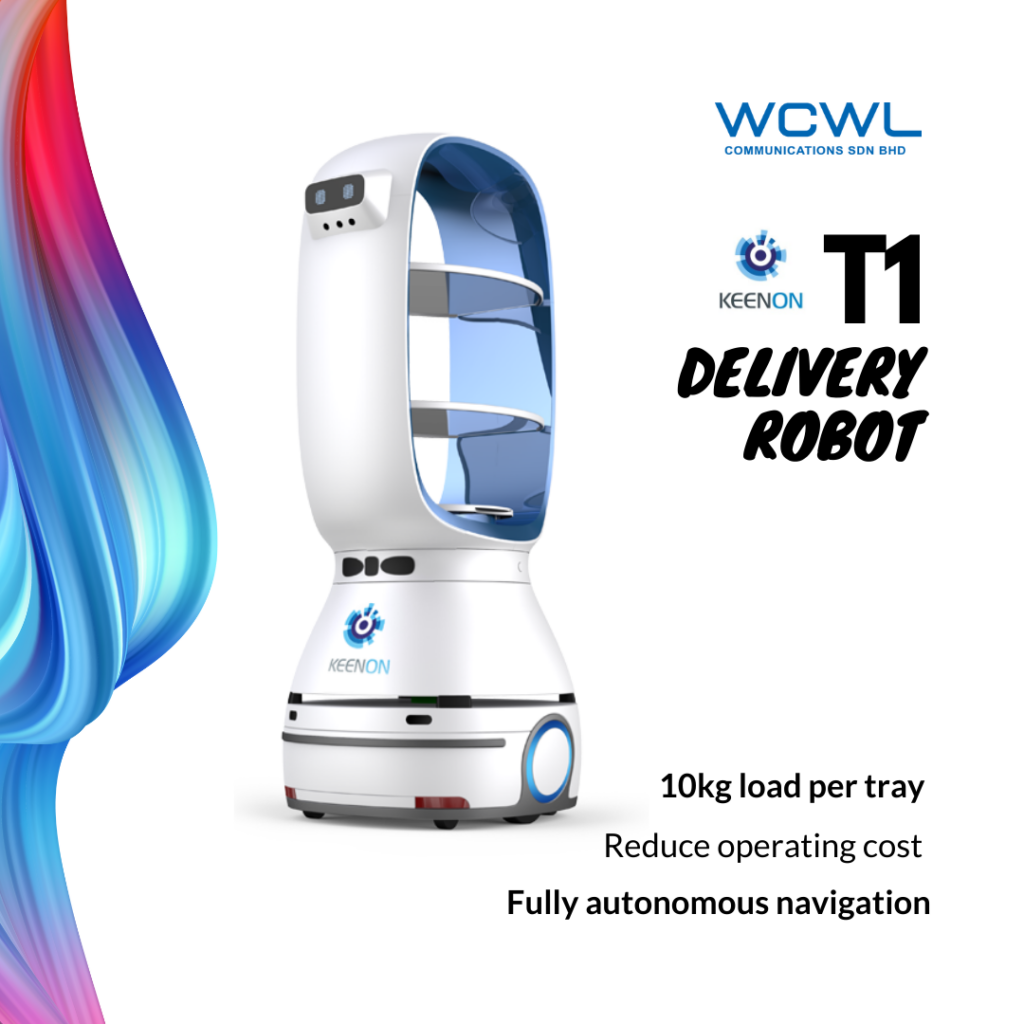 The Keenon T1 Delivery Robot is now in Malaysia! It is part of a series of intelligent transportation robots that operate in indoor environments. Keenon delivery robots are suitable for applications in the public indoor field such as restaurants, hotels, supermarkets, shopping malls, casinos, hospitals, cinemas and business offices, etc.
Product Highlights of Keenon T1 Delivery Robot
Keenon Peanut T1 Delivery Robot
Features a smart indoor transportation robot that interacts with users
Is suitable for restaurants, hotels, supermarkets, and more
Features autonomous navigation, charging and obstacle avoidance
Includes three-layer pallets with a payload of 10 kg each
Can be controlled through the touchscreen and Peanut App
Keenon T1 Delivery Robot features intelligent obstacle avoidance though machine depth perceptions and laser radar, it also has the ability to complete delivery missions in indoor fields, and interact with people. It can be used to deliver dishes in restaurants, transmit office documents and express delivery dispatching, etc. Keenon's robots use lidar and machine vision, as well as infrared sensors for detecting the status of its payload, such as dishes in the case of food service. They also have an intelligent self-return charging function so they are able to search, match, and touch the charging station, returning to recharge automatically.
Users can control it using the touchscreen as well as the Peanut App that connects through Wifi. The robot can intelligently interact with users through the microphone (sound only available in Chinese), and it also features a special interactive function called "Hand touch area". The users can make the robot stop immediately by pressing an emergency stop switch. Which is at the back of the robot and used in an emergency situation that the robot is at an abnormal running status or occur unexpected incidents that will potentially harm the surrounding environment.
Specifications
Max walking speed: 1m/s
Max climbing angle: Slope ≤5°
Max load per tray: 10 kg
WIFI Support: 802.11 b/g/n transporting agreement
Battery: DC 48 V 12 Ah
Rated power: 500 W
Standby current: <0.5 A
Duration: Continue working >8 h
Standby time: >48 h
Lifespan: 40,000 hrs
Working temperature: 0-45 ℃
Working environment: Indoor environment, flat and smooth ground
Charging time: 4 hrs
Charging method: Support automatic/manual charging
Endurance: 5-8 years
Size
Product dimension 500 x 500 x 1200 mm
Up medium layer: 400 x 350 x 200 mm
Down layer: Round diameter 280 mm Height 140 mm
Net weight of the product: 60 kg
Charging set dimension: 230 x 220 x 290 mm
Weight of charging station: 1 kg
You may also be interested in Keenon G2 Guiding Robot