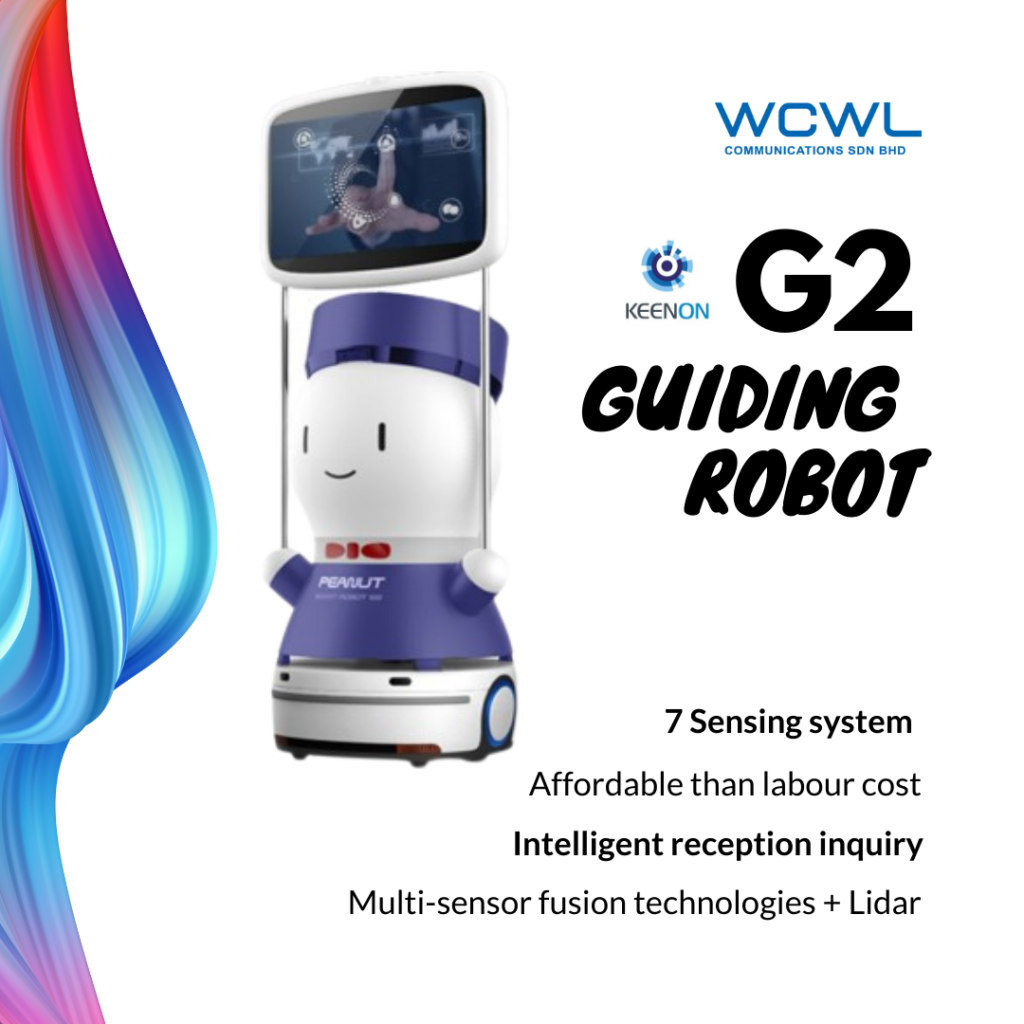 The Keenon G2 Guiding Robot is now in Malaysia! It is part of a series of intelligent transportation robots that operate in indoor environments such as restaurants, hotels, supermarkets, cinemas, business offices and other public places. This commercial guiding robot is the best partner to lead an accurate way for every customer.
Product Highlights
Keenon Commercial Guiding Robot G2
Features a 21.5-inch large double-side high resolution display
Operates in indoor environments such as shopping malls, hotels, museums, etc
Offers fully autonomous navigation and intelligent obstacle avoidance
Provides multi-language audio guiding, patrol and guarding
Intelligent autonomous recharging
Can be controlled through the touchscreen and the Peanut App
Color: Available in BLUE or PURPLE
This guiding robot applies the best sensor technologies, LIDAR/SLAM/Infrared/Sonar sensors, to realize autonomous and accurate path planning and navigation, and the voice microphone interface can be used to communicate intelligently with the user. It is capable of providing services such as guidance, shopping guide, information release, voice dialogue, and more.
The machine vision and deep visual recognition technologies are applied to guarantee precise obstacle avoidance. The robot also has an intelligent self-return charging function so it is able to search and match the charging station, returning to recharge automatically.
Specifications of Keenon G2 Guiding Robot
Model: G2
Color: Available in BLUE or PURPLE
Screen: TFT-LCD
Endurance 5-8 years
Screen Resolution: 1920 x 1080 pixels, 200M
Max Speed: 1 m/s
Max Slope: ≤ 5 degree
Rated Power: 135 W
Battery Capacity: DC 48V 17.2 Ah
Battery Life: ≥ 8 hrs
Standby Current: <0.5A
Standby Time: ≥ 48 hrs
Life Span: 10,000 hrs
Working Environment: Indoor, smooth floor
Environment Temperature: 0~45 ℃
Type of Charging: Auto / Manual
Time of Charging: 6 hrs
Networks: Wifi / 4G / Bluetooth
LIDAR / SLAM / Machine Vision / Deep Visual Recognition / Sonar Sensor / Infrared Sensor / Contact Sensor
Size
Robot size: 500 x 500 x 1450 mm
Net weight: 70 kg
Screen Size: 480 x 272 mm, 21.5 inches
Charging set size: 230 x 220 x 290 mm
Charging set weight: 1 kg
What's Included
1 x Keenon Guiding Robot G2 with Commercial Display
You may also be interested in Keenon G1 Guiding Robot.